Are you planning to pursue a career in teaching in the state of Odisha? If so, clearing the Odisha BED (Bachelor of Education) exam is a crucial step toward achieving your goal. To prepare effectively for this exam, it's essential to have a comprehensive understanding of the Odisha BED exam syllabus. In this article, we will delve into the details of the Odisha BED exam syllabus, covering the different sections and subjects to help you prepare with confidence.
Table of Contents
| | |
| --- | --- |
| Name Of The Post | Odisha Bed Exam Syllabus |
| Type Of Post | Exam Syllabus |
| Exam | Odisha BED Exam |
| Download Syllabus | Yes (Download) |
Download Odisha Bed Exam Previous Questions Paper
Introduction
The BED exam is an entrance examination conducted for individuals who wish to pursue a Bachelor's degree in Education. It serves as a gateway to various teaching programs and institutions across the country. The exam evaluates a candidate's aptitude for teaching and assesses their knowledge in different subject areas.
What is an Odisha BED Exam?
The BED exam is a standardized test designed to assess the suitability of individuals aspiring to become teachers. It measures their proficiency in subjects such as general knowledge, mathematics, languages, teaching aptitude, and subject-specific knowledge. Clearing the BED exam is a prerequisite for admission to reputable teaching programs, including B.Ed. and D.El.Ed.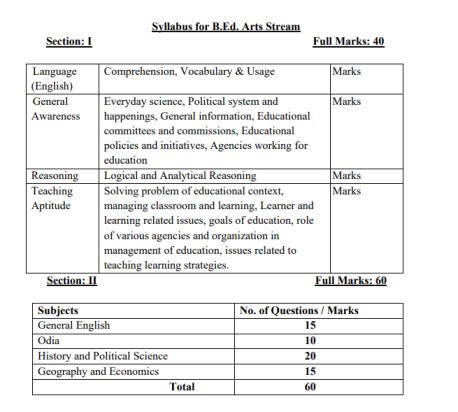 Understanding the Odisha BED Exam Syllabus
The Odisha BED exam syllabus is designed to assess the aptitude, subject knowledge, and teaching skills of aspiring teachers. It comprises various sections that evaluate candidates in different areas. Let's explore the key sections of the Odisha BED exam syllabus:
General Knowledge: This section tests candidates' awareness of current affairs, history, geography, science, and other relevant topics. It aims to assess their ability to stay updated with the world around them.
English: The English section assesses candidates' language proficiency, including grammar, vocabulary, comprehension, and writing skills. It evaluates their command over the language and their ability to express ideas effectively.
Odia: This section focuses on the regional language of Odisha, Odia. It tests candidates' understanding of grammar, vocabulary, comprehension, and writing skills in Odia.
Teaching Aptitude: The teaching aptitude section evaluates candidates' understanding of teaching methodologies, educational psychology, classroom management, and communication skills. It aims to assess their ability to handle teaching scenarios and their enthusiasm for the profession.
Subject-specific: The subject-specific section varies depending on the specialization chosen by the candidates. It evaluates their knowledge in the chosen teaching subject, such as science, mathematics, social studies, or languages. This section requires a deep understanding of the subject matter and related pedagogical approaches.
Preparing for the Odisha BED Exam Syllabus
To excel in the Odisha BED exam, thorough preparation is essential. Here are some tips to help you prepare for the exam effectively:
Understand the Exam Pattern: Familiarize yourself with the exam pattern, including the number of questions, marking scheme, and time duration for each section. This understanding will help you plan your preparation and manage your time during the exam.
Create a Study Plan: Develop a study plan that covers all the sections of the Odisha BED exam syllabus. Allocate sufficient time to each section based on your strengths and weaknesses. A well-structured study plan will ensure comprehensive coverage of the syllabus.
Refer to Recommended Study Materials: Gather the recommended study materials, including textbooks, reference books, and online resources specific to the Odisha BED exam syllabus. These resources will provide you with the necessary content and practice questions to enhance your understanding and knowledge.
Practice Previous Year Question Papers: Solve previous year's question papers to familiarize yourself with the exam format and the types of questions asked. This practice will help you identify the areas where you need improvement and will also boost your confidence.
Take Mock Tests: Mock tests simulate the actual exam environment and provide an opportunity to assess your preparation. Analyze your performance in mock tests and work on areas that require improvement. It will also help you manage your time effectively during the exam.
Stay Updated: Keep yourself updated with current affairs, educational policies, and recent developments in the field of education. Regularly read newspapers, educational magazines, and online resources to stay abreast of the latest information.
Recommended Books for Odisha BED Exam Preparation
While there are numerous resources available for BED exam preparation, here are some recommended books that can aid your studies:
"B.Ed. Entrance Exam Guide" by RPH Editorial Board
"Teaching Aptitude & Teaching Attitude" by Dr. S. K. Singh
"General Knowledge for Competitive Exams" by Disha Experts
"Quantitative Aptitude for Competitive Examinations" by R.S. Aggarwal
"Objective English" by R. S. Aggarwal and Vikas Aggarwal
It's advisable to choose books that align with the latest syllabus and have positive reviews from aspirants and experts in the field.
Online Resources for Odisha BED Exam Preparation
In addition to books, several online resources can assist you in preparing for the BED exam syllabus. Some popular platforms include:
Online learning platforms: Youtube channels like Digital Odisha, Unacademy, and Adda 247 offer courses and tutorials covering various topics relevant to the Odisha BED exam syllabus.
Educational websites: Websites like Digital Odisha, Gradeup, and Toppr provide study materials, practice quizzes, and online mock tests tailored specifically for the BED exam.
YouTube channels: Channels such as Unacademy, Adda 247, and Unacademy offer video lectures, tutorials, and tips for effective Odisha BED exam preparation.
Mobile applications: Apps like EduRev, Gradeup, and Adda247 offer BED exam-specific study materials, quizzes, and practice papers that you can access conveniently on your smartphone.
Conclusion
The Odisha BED exam syllabus serves as a roadmap for aspiring teachers in Odisha.